WELCOME TO THE GLIMPSES !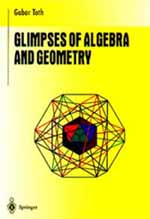 In this web site you will find information, updates, and 3-D pictures for the Glimpses as well as some enrichment topics. Many readers contacted me and gave additional information on various parts of the text. I put all these into an addenda. It is widely held that it is impossible to write a new book without typos and errors, and the Glimpses is no exception. I put all the corrections in an errata.
Most of the readers requested a detailed Solutions Manual; this site has a downloadable LaTeX file, a postscript file that can be viewed directly on your screen (for UNIX users), or you can simply view the solutions manual HTML page.
Four courses have been taught from the Glimpses at Rutgers; I have included here the syllabi for these courses. When browsing through various websites used in the Glimpses it is convenient to have them compiled in an electronic format. There are about 70 colored pictures in gif format that can be used during lecture or when you are sitting in front of a PC. In addition, if you have Maple, SYMMETRY_MAPLE.MS and TOPOLOGY_MAPLE.MS are downloadable Maple text files that contain a lot of animations. Finally, the Glimpses contain some enrichment topics; one of them is posted here as a downloadable LaTeX file, a postscript file, or in HTML format.
I hope you will find this site convenient for reading the Glimpses. For comments/suggestions, please write to G. Toth, Department of Mathematics, Rutgers University, Camden, New Jersey, 08102, U.S.A., or send a message through e-mail: gtoth@camden.rutgers.edu