Upcoming Events
CAREERS IN MATHEMATICS
Monday October 25th from 11:20 AM to 12:20 PM – BSB Room 418
The department of Mathematical Sciences invites you to join us for a Career in Mathematics session presented by Nick Sanchirico. 
Nick will speak about how a strong foundation in mathematics has helped him in his career goals. Nick is currently a data scientist/software engineering consultant for Actalent Services. He has years of experience in the defense industry working for companies Lockheed Martin and Two Six Technologies. In his current role, Nick carries out analyses for the U.S. Navy's Aegis Combat System to help evaluate system performance. A large part of this work involves writing new tooling and optimizing existing software to maximize efficiency and impact. Nick is also a part-time lecturer for the Department of Mathematical Sciences, specializing in scientific computing and data visualization.
PLEASE RSVP BY WEDNESDAY, OCTOBER 22nd TO SM13O8@RUTGERS.EDU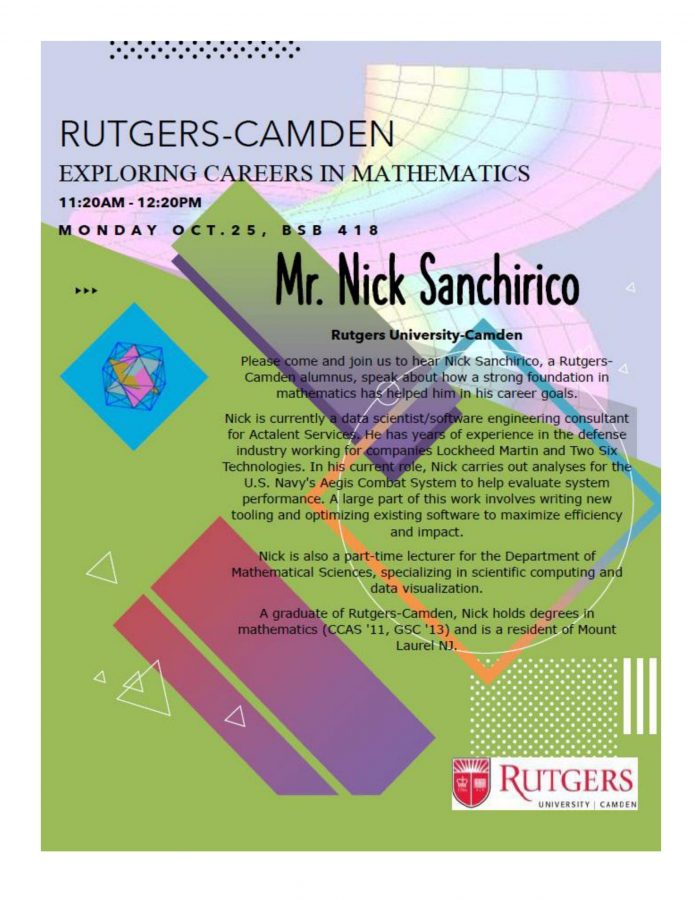 PAST EVENTS:
THE DEPARTMENT OF MATHEMATICAL SCIENCES INVITES YOU TO JOIN US FOR AN ONLINE GET TOGETHER!
MINGLE WITH MATH FACULTY AND STUDENTS
LEARN MORE ABOUT OUR MATH UNDERGRADUATE AND GRADUATE PROGRAMS
DISCOVER MANY CAREER OPTIONS AVAILABLE TO RUTGERS-CAMDEN MATH MAJORS
PERSPECTIVES OF DISTINGUISHED MATH ALUMNI
PLEASE RSVP BY WEDNESDAY, OCTOBER 7th TO SM13O8@RUTGERS.EDU.
DOWNLOAD THE EVENT FLYER (JPG)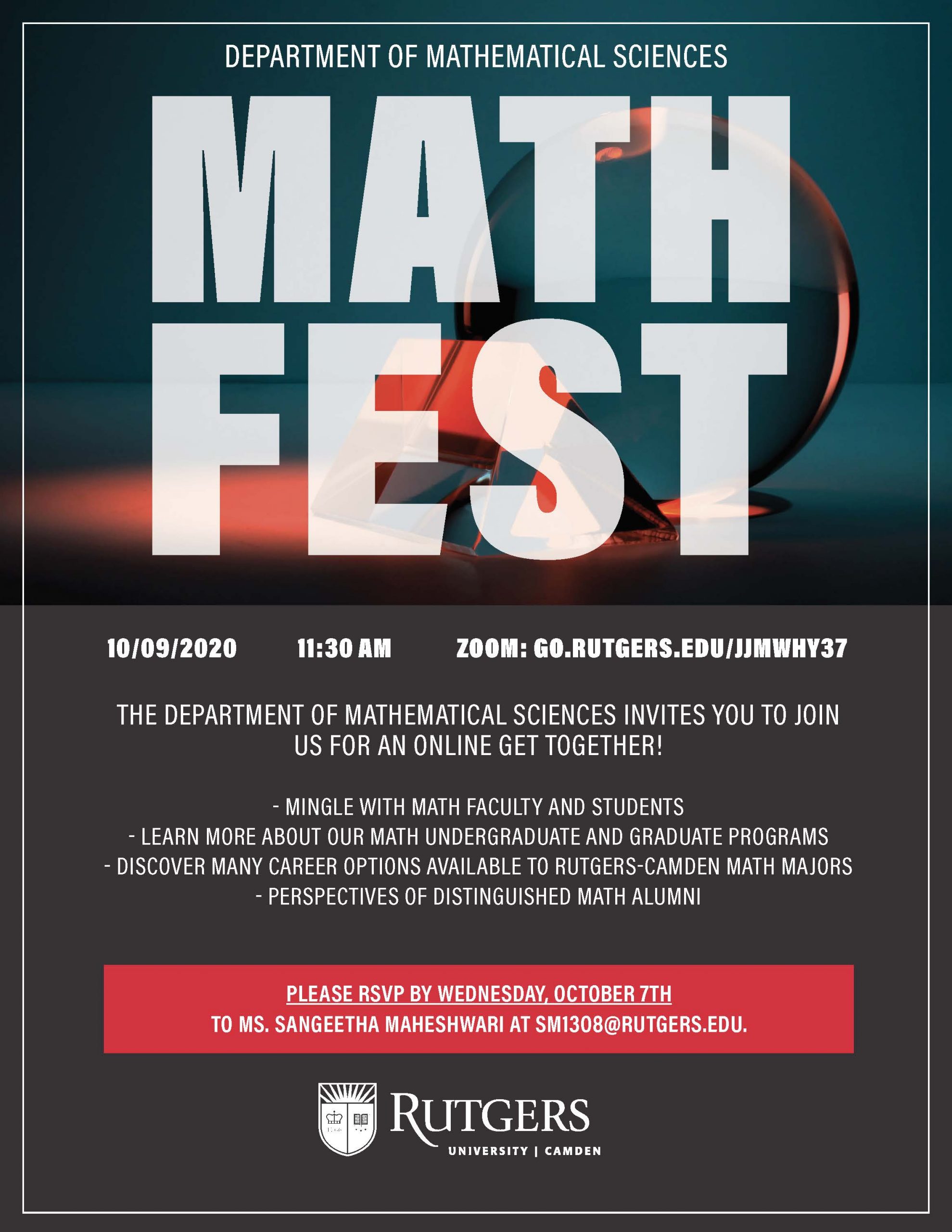 Math Fest Agenda
Host: Professor Chris Lim
11:30-11:35 – Math and Stat at Rutgers University-Camden by Dr. Siqi Fu, Department Chair
11:35-11:45 – Introduction to undergraduate programs by Dr. Sara Leshen, Undergraduate Program Coordinator
11:45-11:55 – Introduction to graduate programs by Dr. Haydee Herrera, Graduate Program Director
11:55-12:05  – Careers for math majors by Cheryl Hallman, Director of Career Center
12:05-12:15 – Perspectives from math alumni by Matt DeMarco and Robin England
12:15-12:25 – Faculty Presentation: Traffic control via autonomous vehicles by Dr. Benedetto Piccoli, Vice Chancellor for Research
12:25-12:45 – Panel discussion with alumni and faculty: Robin England, Ryan Weightman, Dr. Sara Leshen and Professor Chris Lim
Past Events